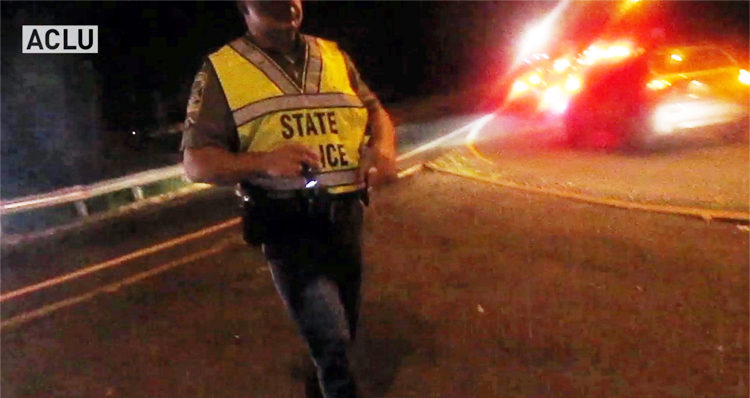 Police officers accidentally record themselves fabricating charges in what seems like an unlikely stroke of cosmic karma. 
The ACLU announced it is filing a federal lawsuit against 3 police officers for conspiring to fabricate charges against a protester.
The American Civil Liberties (ACLU) announced last week that they filed a complaint in the U.S. District Court for the District of Connecticut alleging that three Connecticut State Troopers fabricated retaliatory criminal charges against a protester. [The complaint filed in U.S. District Court is available here.]
The complaint, filed by the American Civil Liberties Union of Connecticut (ACLU-CT), "contends that three state police troopers illegally retaliated against a protester [Michael Picard] by searching and detaining him, confiscating his camera, and charging him with fabricated criminal infractions;" and, in doing so, the officers "violated Picard's First Amendment rights to free speech and information and Fourth Amendment right against warrantless seizure of his property." The lawsuit names three defendants: Trooper First Class John Barone, Master Sergeant Patrick Torneo, and Sergeant John Jacobi, all employed by the state police division of Connecticut's Department of Emergency Services and Public Protection.
Jay Stanley, a Senior Policy Analyst for the ACLU, writes that "In what seems like an unlikely stroke of cosmic karma," a recording of the three officers conspiring to fabricate charges "came about after a camera belonging to the protester… was illegally seized by a trooper who didn't know that it was recording and carried it back to his patrol car, where it then captured the troopers' plotting."
Stanley spoke with Dan Barrett, the ACLU's Legal Director for Connecticut, about the circumstances surrounding the incident. Barrett related that Picard "was well known to the police, who also knew that he is a peaceful privacy and open-carry gun rights activist."
So Michael was out on Sept. 11, 2015 in West Hartford. He shows up, has a big sign that says "cops ahead, remain silent." It's handwritten—this is not threatening stuff. He stood on a small triangular traffic island. He was standing there for an hour, hour and a half without any problems. Then, the state police officers who were working the checkpoint come over to Michael, and the first thing they do is slap the camera out of his hand so it hits the ground. He thinks it's broken.
It was really brazen. There's another video showing that the first thing the state trooper does is walk up and with his open hand slap the camera down to the ground. He doesn't even say anything like "put that down," or "please lower your camera." He just slaps it to the ground. Then he interacts with Michael as if nothing happened, as if, "I'm just allowed to do that, and I don't even have to tell you why I just broke your camera." It's an amazing level of hostility.
Barrett, who is representing Picard in the lawsuit, recounts that the troopers proceed to search Picard and "theatrically announce that he has a gun," something they already knew from past experience with him. Picard picks up his camera from the ground as the officers go to run his pistol permit. Picard attempts to turn the camera on as one of the officers (Trooper Barone) returns, "and that's when the video starts."
The cop announces that "taking my picture is illegal," confiscates the camera and places it on top of the cruiser, not realizing that it is turned on and recording video.
The ACLU reports in a press release that "With the camera rolling, the officers proceeded to: call a Hartford police officer to see if he or she had any "grudges" against Picard; open an investigation of him in the police database; and discuss a separate protest that he had organized at the state capitol."
Barrett continues his narrative, elaborating on what happens next:
So we get the three troopers at the cruiser talking about what to do. Michael's permit comes back as valid, they say "oh crap," and one of the troopers says "we gotta punch a number on this guy," which means open an investigation in the police database. And he says "we really gotta cover our asses." And then they have a very long discussion about what to charge Michael with—none of which appear[s] to have any basis in fact. This plays out over eight minutes. They talk about "we could do this, we could do this, we could do this…."
[…]
In the end they decide on two criminal infractions: "reckless use of a highway by a pedestrian" and "creating a public disturbance." They have a chilling discussion on how to support the public disturbance charge, and the top-level supervisor explains to the other two, "what we say is that multiple motorists stopped to complain about a guy waving a gun around, but none of them wanted to stop and make a statement." In other words, what sounds like a fairy tale.
Charges were eventually dropped, but as Barrett notes, it took an entire year for Picard to "disentangle himself from the criminal justice system."
Picard's attorney, Joseph R. Sastre, told the ACLU that "The evidence clearly shows that these police officers violated Mr. Picard's rights." Sastre, who defended Picard against criminal charges, has joined Barrett in representing Picard in the civil case.
Barret states that: "Police should be focused on public safety, not punishing protesters and those who film public employees working on a public street. As the video shows, these police officers were more concerned with thwarting Mr. Picard's free speech and covering their tracks than upholding the law."
Asked about the incident, Picard stated that: "Community members like me have a right to film government officials doing their jobs in public, and we should be able to protest without fearing political retribution from law enforcement. As an advocate for free speech, I'm deeply disappointed that these police officers ignored my rights, particularly because two of the troopers involved were supervisors who should be setting an example for others. By seeking to hold these three police officers accountable, I hope that I can prevent the same thing from happening to someone else."
Speaking of the federal lawsuit, Sastre stated that "We are confident that the court will agree, and we hope that it will send a strong message to police and the public alike that enforcing the law means respecting free speech, not trampling on it."
The complaint filed in U.S. District Court is available here.
Footage of the incident, as recorded by Picard's camera, with closed captioning added, can be viewed, below:
(Visited 370 times, 1 visits today)