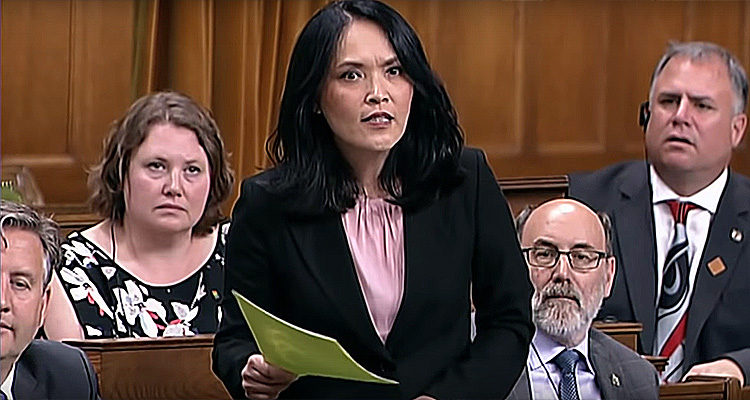 Canadian politician flips out during Parliament Assembly in response to the Trump administration's policy of separating migrants from their children after crossing the border illegally.
Canadian Member of Parliament Jenny Kwan spoke out against the Trump administration's "zero-tolerance" immigration policy, which has led to separation of over 2000 migrant children from their parents.
Speaking before an assembly of the Canadian Parliament, Kwan railed against Trump.
"The United States is forcibly separating migrant children from their parents when they enter the U.S. to claim asylum," she began.
"This cruel and unusual practice is Trump's way of stopping migrants from crossing. The U.S. also announced that they would no longer provide asylum in cases involving domestic and gang violence," she continued, adding: "These practices are blatant violations of every international law."
"So does the Prime Minister still really believe that the United States is still a Safe Third Country?" she asked.
Justin Trudeau responded: "From the beginning I have been clear about the role that Canadians expect of me: to stand up firmly and unequivocally for our values, for our interests, to protect Canadians and to make sure that we are doing well, as well as having a constructive relationship with the United States. And that's what we're going to remain focused on…."
Kwan responded: "News flash for the Prime Minister: the Human Rights Commissioner [for the United Nations] condemned this policy and called it unconscionable. This is destroying lives. If we don't step up then we are complicit. Nearly 2000 children have been sent to mass detention centers and over 100 of them are under 4-years-old."
"Will the Prime Minister stand up for migrant children and suspend the Safe Third Country Agreement?" she asked.
Trudeau responded that he will always stand up for human rights everywhere around the world, adding: "What we will not do is play politics with this. We understand how important it is to be firm and unequivocal as we protect and support human rights around the world. And we will continue to do that both by example and by engagement with the world."
You can watch the exchange, below:
(Visited 2,921 times, 1 visits today)