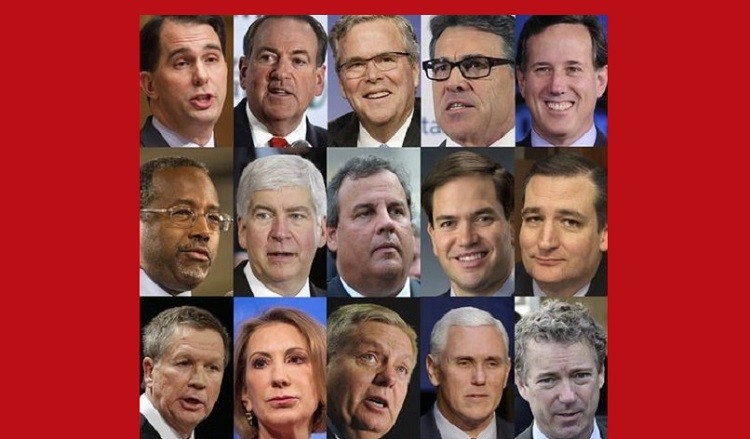 It's refreshing to see honesty coming from a Republican. And that's exactly what we're seeing from from former Sen. Tom Coburn (R-OK), who served in the Senate for ten years and six years in the House of Representatives before he retiring in January 2015.
Coburn was interviewed by Andrew Wilkow last week and had a lot to say about every Republican candidate running in 2016 – and it wasn't pretty. He said they're "not ready for primetime," lacking "integrity," not "capable," and that he wouldn't support one of them even if he won the nomination.
Check out his take on the clowns candidates:
Scott Walker: "Not ready for primetime, in my opinion. You look at what happened in Wisconsin in terms of him beating the recall and everything else, he didn't do that. The Republicans around the country did it for him. They pulled him out of the fire. I just don't think he's quite ready for primetime, in my opinion."
Ben Carson: "I have a personal bone to pick with him on integrity that I witnessed. He made a commitment at the Prayer Breakfast not to attack the president. The speech was nothing but an attack on the president. The people who organized the Prayer Breakfast asked him not to do that. He said he would not, and then he went out and did it."
Rick Perry: "Good guy. I don't think he's capable at that level."
Rand Paul: "Scares me to death on international foreign policy. Know him well, very smart. Think he was totally wrong on NSA. Didn't speak truthfully about what was actually the facts. Would not vote for him for president."
Marco Rubio: "Of all that are out there right now, probably my favorite."
George Pataki: "Probably smart enough, but would never encounter the votes. Nor does he have the conservative fiscal credentials or other credentials he would need to have a coalition behind him, in my opinion."
Lindsey Graham: "Love him, but he's right in the middle, so I don't see how he builds a coalition. I think his effort is try to talk about foreign policy and that's what he ought to stick to."
Carly Fiorina: "Smart lady. I helped her in her Senate campaign of which she was ultimately unsuccessful, but it's because she could never get into good debates. Smart, savvy, experienced. Knows the issues that I've been talking about. Presents well. Doesn't have a voting record. They'll trash her bigtime because of her Hewlett-Packard experience."
Ted Cruz: "Not ready for primetime."
Mike Huckabee: "Possibility. Good guy, well-rounded. Could fit in the middle and could attract votes from both sides."
(Okay, I'm going to have to interject here because, um . . . no. Not both sides.)
Rick Santorum: "Love him as a man. I think he feels called to try to do this. I don't think it's within his reach."
Chris Christie: "Don't know. I haven't followed him well. I saw his tollgate problems. I like the fact that he answers questions correctly, which very few candidates do. I like the fact that he'll take a risk and give you an answer that's not politically popular."
Jeb Bush: "I don't think America will elect another Bush president. I talk to a lot of liberals all the time. They still loathe George Bush. And so you shut out 47 percent of the electorate with that nomination. So you only get to lose three or four percent. I just don't think it's a possibility."
He is rather friendly as he bashes his own but the point stands. He doesn't believe any Republican has what it takes to win the White House.
Additionally, Coburn trashed his own party for their obsessive quest to kill Obamcare saying it took them "away from the larger picture."
It's interesting to note these comments because Coburn is no stranger to lunatic ideals. He once warned of "rampant lesbianism" in schools and that abortion doctors should be executed. The fact that he's trashing his own party speaks volumes to the idea that the GOP is imploding.
Like Kimberley A. Johnson on Facebook HERE or follow her HERE.
His candidate analysis begins around the 5:45 minute mark:
(Visited 17 times, 1 visits today)