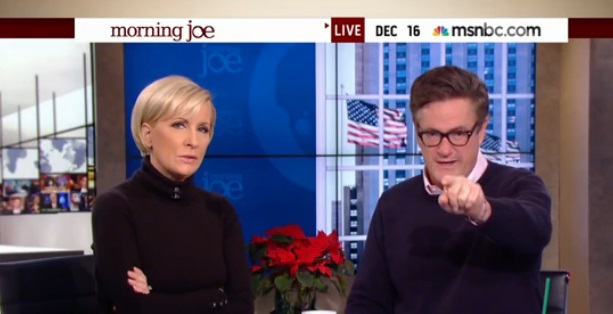 MSNBC's "Morning Joe" host Joe Scarborough came out in defense of comedian Bill Cosby on Tuesday morning and said the media should not report on the women who are accusing Cosby of drugging and raping them until he is officially charged.
Cohost Mika Brzezinski said several of the women "do not seem credible," and Scarborough reminded viewers that Cosby has not been charged with any crime. But Scarborough failed to mention that Cosby settled in a 2006 lawsuit brought on by accuser Andrea Constand.
Scarborough took issue with the fact the media is reporting on the accusations of women who are coming forward "40 years later."
"But do we not report it?" Brzezinski asked.
"I don't think we should," Scarborough answered.
Katty Kay, a journalist and a panelist, interjected, citing child abuse and rape allegations made years ago against the Catholic Church that were recently proven credible.
Scarborough wasn't convinced and said,"Any woman can come forward right now and say 'Bill Cosby did this to me 40 years ago' and be on the cover of US Weekly. With no vetting.
"They will print your story, and maybe it happened," Scarborough added. "If it did, it's tragic. But if it didn't happen, you get your 15 minutes of fame."
Please take a moment and Like Kimberley A. Johnson on Facebook.

(Visited 12 times, 1 visits today)