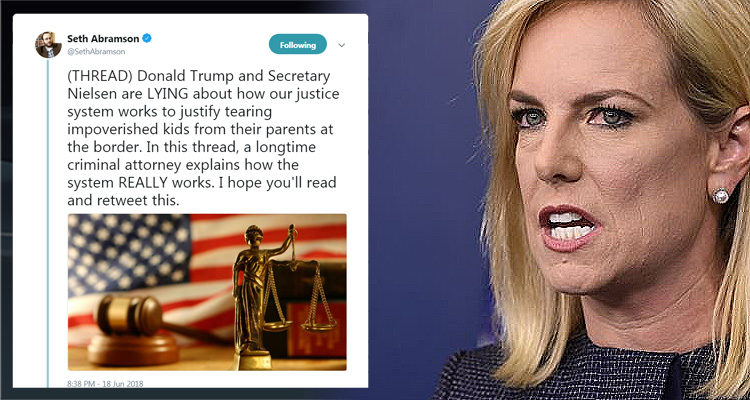 "Trump and Secretary Nielsen are LYING about how our justice system works to justify tearing impoverished kids from their parents at the border. They are an abomination." ~ Seth Abramson
The Trump administration finds itself under fire this week as the controversy over its "zero-tolerance" immigration policy explodes with images and recordings of sobbing refugee children flooding the news cycle and social media.
For his part, Trump continues to double-down on blaming Democrats for the current situation. As The Denver Post reported:
Trump doubled down Monday on his false insistence that Democrats are to blame for the administration's forced separation of migrant children from their families at the border, even as a growing number of Republicans urged him to reverse course.

Speaking at a White House event, Trump said the issue needs to be resolved through broader immigration legislation – a notion that even some Republicans disputed Monday…

Contrary to Trump's claims, the separations largely stem from a "zero-tolerance" policy announced with fanfare last month by Attorney General Jeff Sessions. As more families are stopped for illegally crossing the border, adults are taken to detention facilities that are effectively jails, and children are sent elsewhere.
The Cut provided the following overview of the current situation:
The Trump administration has been facing intense backlash over its "zero tolerance" immigration policy, which has families seeking asylum being separated at the border. Under the cruel policy, migrant children are being ripped away from their parents and housed in detention centers with "prison-like" conditions.
Continuing, The Cut reported that:
Many reporters, activists, and civilians have been outraged — and so Monday's White House press briefing had a guest at the podium: Secretary of Homeland Security Kirstjen Nielsen, who was on hand to talk about the Trump administration's policy.

But instead of giving concrete answers, offering feasible solutions, or expressing concern for the affected families, Nielsen defended the administration, blamed Democrats, and deflected questions.
The New York Times published a transcript of the Monday press briefing, during which Nielson was crystal clear on one point: the refugees attempting to cross the border are "criminals."
"[P]arents who entered illegally are, by definition, criminals. Illegal entry is a crime as determined by Congress. By entering our country illegally, often in dangerous circumstances, illegal immigrants put their children at risk," she told reporters.
Former criminal investigator and criminal defense attorney, Seth Abramson, weighed in on those claims in a Monday evening Twitter thread.
(THREAD) Donald Trump and Secretary Nielsen are LYING about how our justice system works to justify tearing impoverished kids from their parents at the border. In this thread, a longtime criminal attorney explains how the system REALLY works. I hope you'll read and retweet this. pic.twitter.com/HpKinNiGpT

— Seth Abramson (@SethAbramson) June 18, 2018
"Donald Trump and Secretary Nielsen are LYING about how our justice system works to justify tearing impoverished kids from their parents at the border," he began, adding: "In this thread, a longtime criminal attorney explains how the system REALLY works."
Abramson went on to explain that illegally crossing the border was akin to the crime of "criminal trespass," a "non-violent offence" that normally would not result in pre-trial detention. He also pointed out that the mere allegation of a crime and even arrest does not make someone a "criminal" as the Sec. Nielson, Trump and others in the administration are claiming.
Abramson wrote:
The overwhelming majority of criminal cases in America involve accusations of non-violent acts (including allegations of property, drug, testimonial, and so-called "status" offenses). One of the *least serious* criminal allegations in the justice system is "criminal trespass."
In America, someone is not a "criminal" simply because the government has accused them of a criminal offense. Convictions require a trial or plea. This is true whether or not the offense is non-violent. A person is *only* a "criminal" if they have been convicted of an offense.
Continuing, Abramson explains that crossing the border illegally was normally treated as a civil offense until the Trump administration changed that policy by way of a policy directive by Trump's Attorney General, Jeff Sessions.
Abramson wrote:
Illegal entry to America was for many years a civil—i.e. non-criminal—infraction, meaning even if you were found after a hearing to have illegally entered the country, you wouldn't be considered a "criminal." You would have committed a non-violent, non-criminal status offense.
The Trump Administration has decided—they have *chosen*—to treat illegal entry as a "crime." This means it is now on par with "criminal trespass"—one of the least serious non-violent offenses in the United States, and one for which almost no one would be held on bail pretrial.
Abramson went on to explain that Trump and Sec. Nielson are lying to the American people:
In the *rare* instances our justice system separates a child from his/her parents, a) the government has presented evidence of abuse or neglect, and/or b) the allegation against the parent is so serious pretrial incarceration is required. The government then seeks next-of-kin.
With this in mind, understand that everything Trump and Nielsen have said on their policy of ripping impoverished kids from their parents is a lie—as is every attempt they and their allies in far-right media have made to position this policy as "typical" in our justice system.
Those who enter America without documentation aren't "criminals"—they have undergone *none* of the processes necessary to make that determination. A hearing may determine they're validly seeking asylum or for some other reason cannot be said to have entered America illegally.
Moreover, the allegation of illegal entry—*even if* regarded as an allegation of criminal conduct—is an allegation of *non-violent* criminal conduct, and an allegation made against someone with no known criminal record, meaning that normally pretrial detention wouldn't occur.
Continuing, Abramson concedes that pre-trial detention could be appropriate under the circumstance of an illegal border crossing, but added that children would never be separated from their parent(s) or taken into detention according to the normal rule of law: :
Pretrial detention obviously *will* occur in most illegal entry cases, as the nature of the allegation and non-citizen status of the individual accused is such that most judges will fear the defendant will flee pre-hearing. *None of that* militates for separation of families.
If Trump and Nielsen insist on analogizing border crossings to domestic criminal cases, here's the only possible analogy: in the case of a border crossing, a person with no prior record is charged with (but hasn't been proven to have committed) a non-violent criminal offense.
However, because in *this* situation the government hasn't proven abuse or neglect; and the government cannot find next-of-kin; and the border-crosser's detention is mandated by the circumstances but not by violent proclivity or prior record, you would NEVER take their child.
Indeed, not only would *all* of those facts militate *against* separating a child from their parent(s), but *also* the *additional* fact that the child has just undergone a traumatic experience—a long migration—and is in a nation where they have no other known family members.
In the *very* rare cases in which a criminal allegation—and again, it would almost *always* require a prior record, charges of violence, and/or a showing of abuse or neglect—leads to a parent/child separation, the government would *never* take the child into secure detention.
Abramson went on to state that such actions were unconstitutional and an "abomination," adding that lawyers like Laura Ingraham, who defend the administration's policy, "disgrace" their role as lawyers, members of the bar:
So in the view of any attorney who has practiced in the American criminal justice system—and who isn't blinded by partisan rancor—the actions now being taken by Trump and Nielsen are an abomination and *can't* be construed, in any way at all, as a "typical" government action.
When attorneys like Laura Ingraham—acting as right-wing apologists for an inhumane, un-American justice policy—deliberately *pretend* that individuals in pretrial status can be called "criminals" and that non-violent offenders are usually held pretrial, they disgrace the bar.
Americans who care about the rule of law should know that every single tradition and practice in American law would dictate that an individual accused of a nonviolent offense who is in pretrial status should *never* be separated from their kid(s)—*especially* not maliciously.
Abramson ended his thread with the following conclusion and notes:
CONCLUSION/ Attorneys take an oath to uphold the Constitution; we cannot publicly distort the rule of law. We are *not* permitted to deliberately mislead the public about basic legal process. Giuliani, Ingraham, and other Trump apologists are doing so daily and it must stop.
NOTE/ By comparison, a thing that is *very common* in our justice system is that a defendant (see: Paul Manafort) charged with major federal felonies who—after being released on bail—repeatedly violates bail conditions and is then charged with new felonies *will* be incarcerated.
NOTE2/ My list of nonviolent offense types was—as I noted—non-exhaustive. Other such offenses include many driving offenses and certain crimes of moral turpitude (e.g., adultery is a crime in some jurisdictions). As I noted, "criminal trespass" is less serious than most of these.
NOTE3/ I've worked many criminal trespass cases, and can say that even within that fairly minor charge are levels of seriousness—based on the facts of the case—that have to do with the *reason* for the trespass. "To find a job and feed my children" is the *best reason there is*.
(Visited 3,673 times, 1 visits today)